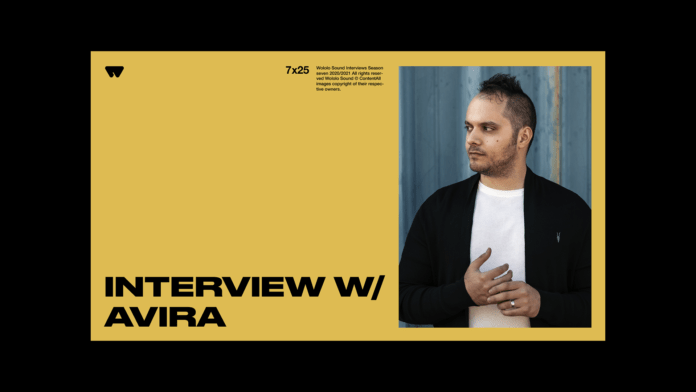 Youhanna Assaf, mejor conocido bajo sus alias artísticos AVIRA y Assaf, es nuestro nuevo entrevistado. Todo un habitual de Armada Music en los últimos meses y con una gran proyección en este nuevo periplo en el que embarcó hace exactamente un año. La pandemia frenó de llegada a las cabinas de los mejores clubs y festivales del mundo, pero ha hecho mucha música durante todo este tiempo y viene a hablarnos sobre ella:
Entrevista con AVIRA / Interview with AVIRA:
Wololo Sound: ¡Hola, Youhanna! Es un placer para nosotros poder entrevistarte en un momento clave de tu carrera. Este proyecto comenzó hace un año escaso con tus primeros lanzamientos en Armada Music, pero antes de nada queremos saber sobre tus precedentes. ¿A qué te dedicabas antes de utilizar este alias? ¿Producías bajo otro(s) nombre(s)?
AVIRA: Producía bajo el nombre de "Assaf", que de hecho es mi apellido. ¡Me centraba en el lado más trancero de la música!
Wololo Sound: Hi, Youhanna! It's a pleasure for us to interview you in such a key moment of your career. This project started a year ago with your first releases on Armada Music, but we want to know about your preceding. What did you do before having this alias? Did you produce under a different name?
AVIRA: I produced under the name "Assaf", which is actually my family name. I was focused more on the Trancey side of Dance Music!
---
WS: Imaginamos que ya habías tenido contacto con Armin van Buuren y todo su equipo antes de emprender este proyecto y que eso ha ayudado a que el inicio sea menos complicado de lo que es para cualquier artista amateur. Esta es una pregunta que ya le hemos hecho a otros artistas que han firmado en el sello, pero en tu caso, ¿cómo lograste contactar por primera vez con ellos?
A: He estado involucrado durante unos años con Armada Music bajo mi alias "Assaf". Solía llevar un sello (Black Sunset Music) con Jeremy Vancaulart, que era parte de familia Armada.
WS: We imagine you have already been in touch with Armin van Buuren and all of his team before starting this project and that has helped your start to be less complicated than what it usually is for an amateur artist. This is a question that we already asked other artists that signed with the label, but in your case, how did you manage to get in touch with them for the first time?
A: I've been involved with Armada Music for already quite a few years under my alias "Assaf". I used to run a label (Black Sunset Music) with Jeremy Vancaulart that was part of the Armada family.
---
WS: ¿Se siente presión al arrancar tu carrera en un sello como Armada? Muchos dicen que lo difícil no es llegar, sino mantenerse, y tú has empezado tu carrera en un step muy alto. ¿Qué planes tienes para los próximos años?
A: Como ya dije, estaba muy familiarizado con todo el mundo en Armada, para mí son como una familia. Todos tenemos una visión muy clara de la dirección de AVIRA en el futuro, pero el primer paso es lanzar buena música para que el mundo pueda conocerme un poco.
WS: Do you feel any pressure because of starting your career in a label like Armada? Many say that the difficult thing is not getting there but to remain there, and you have started your career in very high step. What plans do you have for the upcoming years?
A: Like I said I was already really familiar with everyone at Armada, so it feels like family to me. We all have a clear vision for where AVIRA can go in the future, but the first steps are to release great music so the world can get to know me a little.
---
WS: Nos sentimos obligados a preguntarte por cómo te sientes al haber hecho que Armin se atreva a sacar contigo tres temas de techno melódico, un subgénero en claro crecimiento, en ese EP compuesto por 'Hollow', 'Illusion' y 'Mask'. ¿Qué crees que le llevó a arriesgar con un sonido al que su fanbase no estaba acostumbrada? ¿Crees que este año este estilo seguirá tan fuerte como hasta ahora?
A: Armin siempre ha estado en la cresta de la ola de la música dance y de hacia dónde se dirige. Creo que todos estamos de acuerdo en que sin importar el estilo, su esencia perdura. Con eso en mente, lo pasamos genial trabajando juntos en el EP 'Hollow Mask Illusion' y por suerte la gente pareció disfrutarlo muchísimo.
WS: We must ask you about how you feel about Armin releasing three melodic techno tracks with you, a genre that is visibly growing, in that EP formed by 'Hollow', 'Illusion' and 'Mask' What do you think that moved him to take the risk with a sound that his fanbase was not used to? Do you think that this style will keep as strong this year?
A: Armin has always been incredibly on the pulse of dance music and where it's going. I think we can all agree that no matter what style he's working on it still remains his essence. With that in mind we had an amazing time working together on the 'Hollow Mask Illusion EP' and thankfully people seemed to really enjoy it.
---
WS: En muy poco tiempo has remezclado a leyendas como York o Chicane, a un referente actual como Lost Frequencies, has colaborado con Yotto y Tom Staar… ¿cuál es la experiencia que más destacas entre todas las que has vivido desde que comenzaste como AVIRA?
A: Es difícil quedarse con una. Todos los temas que hago son como mis hijos, a todos los quiero y todos tienen una historia única que significa mucho para mí. Si tuviera que elegir uno, sería mi EP con Armin. Logramos impactar, lo cual me hace súper feliz.
WS: In very little time you have remixed legends like York or Chicane, a current model like Lost Frequencies, you have collaborated with Yotto and Tom Staar… What is the most highlighted experience that you have lived since starting AVIRA?
A: It's hard to pick a favourite experience. All the music I make is like my children, I love them all and they each have a unique story that means a lot to me. If I had to pick one it would be my EP with Armin. We really managed to make an impact, which I'm super happy about.
---
WS: En unos meses volveremos a bailar en los clubs como si nada hubiera pasado. ¿Tienes cosas preparadas para tu vuelta a las cabinas? ¿Qué géneros podremos esperar en una sesión tuya? ¿Pincharás algo más "club" o serás fiel al estilo de tus producciones?
A: Tengo muchísima música que nadie ha oído antes; algunas canciones muy sorprendentes, seguro. Estoy deseando pincharlos por primera vez y también algo de la música que la gente ya conoce.
WS: In a few months we will be back to dancing in clubs like if nothing had happened. Do you have something in store for your return to the DJ booths? What genres could we expect in your sets? Will you play something more "clubby" or will you be loyal to your production style?
A: I've got loads of new music that's never been heard before, some surprises for sure. I look forward to playing it for the first time and also some of my music that people are familiar with!
---
WS: Nosotros somos un medio español y queríamos preguntarte por nuestras tierras. ¿Qué conoces sobre la escena de la música electrónica en nuestro país? ¿Hay algún artista, club o festival que te llamen la atención y con los que te gustaría trabajar?
A: España tiene un renombre mundial por su sitio en la historia de la música dance. Uno de mis sueños es visitar España y ver por mí mismo qué magia ofrece. Sueño especialmente con pinchar en Ushuaïa y visitar Ibiza por primera vez.
WS: We are a Spanish media and we wanted to asked you about our land. What do you know about the electronic music scene in our country? Is there any artist, club or festival that has stood out and that you would like to work with?
A: Spain is world renowned for its place in dance music history. One of my dreams is to visit Spain and see for myself what magic it has to offer. I especially have a dream of playing at Ushuaïa and visiting Ibiza for the first time.
---
WS: Y para acabar, tenemos una ronda de preguntas cortas para ti:
WS: ¿Festival favorito en todo el mundo? / A: Tomorrowland
WS: ¿Club favorito? / A: Guvernment, en Toronto (D.E.P.)
WS: ¿Un artista con el que os gustaría colaborar? / A: Lady Gaga
WS: ¿Un artista con el que haríais un b2b? / A: Armin van Buuren
WS: ¿Una ciudad en la que viviríais? / A: Toronto
WS: ¿Un hobby? / A: Jugar al Call of Duty
WS: To finish, we have a round of short questions for you:
WS: Your favourite festival in the world? / A: Tomorrowland
WS: Your favourite club? / A: Guvernment in Toronto (RIP)
WS: An artist to collaborate with? / A: Lady Gaga
WS: An artist to make a b2b with? / A: Armin van Buuren
WS: A city to live in? / A: Toronto
WS: A hobby? / A: Playing Call of Duty