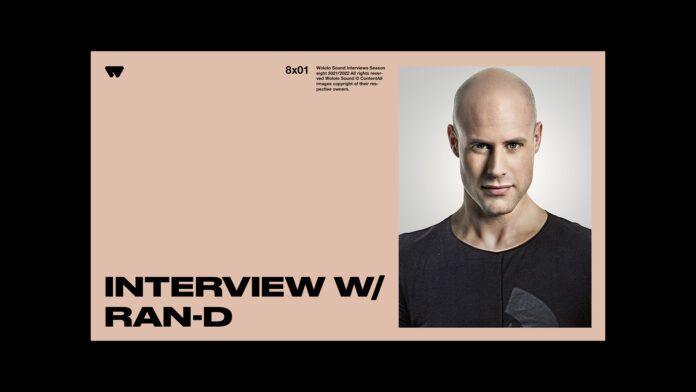 Verano agridulce con pequeños y restrictivos eventos tras una pandemia que parece no tener fin, pero la vida sigue y con ella nuestra nueva temporada de entrevistas, cada lunes como habitualmente. La ocasión lo merece y no queríamos decepcionaros con el primer invitado del octavo año de nuestro medio. Su acaudalada experiencia, su capacidad para transmitir las emociones más profundas con su sonido o su carisma en los escenarios, en ellos desde el 2006, han llevado a Randy Wieland, más conocido como Ran-D, hasta los eventos más exclusivos del planeta. El líder de Roughstate y 50% de Gunz For Hire se sienta con nosotros para hacer un recorrido por sus largos años en el hard, contarnos qué claves le han llevado a ocupar el podio de la escena, sus últimas actuaciones, y más. Hemos vuelto familia, ¡y de qué manera!
---
Wololo Sound: Hola Randy, ¡gracias por darnos la oportunidad de entrevistarte! Somos conscientes de que estás en uno de los mejores momentos de tu carrera musical, pero antes nos gustaría que nos hablaras de tus inicios y de todo el proceso hasta llegar a donde estás hoy. ¿Cómo resumirías tu carrera musical? ¿Qué dirías que marcó tu paso de artista local a internacional?
Ran-D: Creo que para mí la gran oportunidad fue cuando toqué por primera vez en un evento de Q-Dance llamado Qountdown en el año 2008 a 2009, durante Nochevieja. Pinché en un b2b con Alpha Twins y B-Front, también fue su primer gran concierto. Fue entonces cuando pinché por primera vez 'Living For The Moment', que creo que fue mi primer gran éxito y que dio el pistoletazo de salida a mi carrera.
Después hice muchas cosas guays, hice unos nueve anthems para eventos, entre los cuales los más conocidos son probablemente 'No Guts No Glory', el himno de Decibel… ¡Muchos anthems, muchos grandes escenarios! También llevo actuando como Gunz For Hire durante años, 2011 fue la primera vez que lo hicimos en Decibel.
Luego llegó 'Zombie' y a partir de ese momento ¡todo se volvió una locura! ¡Hay tantas cosas buenas durante mi carrera, creo que estoy bendecido y hay mucho más por venir!
Wololo Sound: Hi Randy, thank you for giving us the opportunity of interviewing you! We are aware of the fact that you are in one of the heydays of your musical career, but first we would like that you talk about your beginnings and the whole process till where you are today. How would you sum up your musical career? What would you say that marked your step from local to international artist?
Ran-D: I think for me the big break was when I played for the first time at a Q-Dance event called Qountdown in year 2008 to 2009, during New Year's Eve. I was playing a b2b with Alpha Twins and B-Front, it was also his first really big gig. That's when I first played 'Living For The Moment', which I think was my first big hit and that kind of kickstarted my career.
Afterwards I did so much great stuff, I made around nine anthems for events amongst which the best known are probably 'No Guts No Glory', the Decibel anthem…A lot of anthems, a lot of great stages! I also performed with Gunz For Hire for years, 2011 was the first time we did that at Decibel.
Then 'Zombie' came and from that moment on it even went crazier! There is so much great stuff during my career already, I think I'm blessed and there's a lot more to come!
---
WS: Durante todo ese proceso, has estado muy vinculado a Roughstate, el sello que fundaste con otros destacados artistas del hard. ¿Cómo surgió este proyecto? ¿Qué dirección crees que tomará durante los próximos meses/años?
R: Tenemos un gran grupo ahora mismo, un montón de chicos con talento en el sello. Somos bastante exigentes con eso. Quiero decir, las demos son siempre bienvenidas. Pero el grupo con el que estamos trabajando en este momento… Tenemos mucha confianza en esos chicos.
La forma en que comenzó, ¡fue por amistad! Bob, Niels, Pepijn, Thijs y yo, todos somos de la misma época del hardstyle, así que nos conocemos desde hace años y somos buenos amigos. Todos venimos de varios sellos y empezamos a hablar de tener el nuestro. Desde el punto de vista musical, tenemos una gran sintonía y ahí es donde empezó todo.
Hacia dónde creo que va a ir… Creo que hemos estado sacando música en solitario con frecuencia y eso es lo que vamos a seguir haciendo. Tenemos un buen flujo de música, lanzamientos en solitario… Pero también los talentos están lanzando cosas geniales: Galactixx, Radianze, Invector… todos estos chicos están haciendo grandes cosas y creo que sólo vamos a crecer a partir de ahora, seguiremos haciendo buena música y divirtiéndonos, ¡eso es lo más importante!
WS: During that whole process, you've been closely linked to Roughstate, the label that you founded with other prominent hard artists. How did this project come about? What direction you believe it will take during the next months/years?
R: We've got a great group right now, a lot of talented guys on the label. We're pretty picky about that! I mean, demos are always welcome. But the group that we're working with at the moment…We're really confident about those guys.
The way it started, it was out of friendship! Bob, Niels, Pepijn, Thijs and me, we're all from the same era of hardstyle so we've known each other for years and we're good friends. We all came from several labels and we started talking about having our own. Music wise we have a great click and that's where it all started!
Where I think it's going to go…I think we've been releasing solo music frequently and that's what we will keep on doing. We've got a really good stream of music, solo releases…But also the talents are releasing great stuff: Galactixx, Radianze, Invector…these guys are all doing great stuff and I think we're only going to grow from now on, keep on doing great music and having fun, that's the most important thing!
---
WS: La música electrónica está en constante evolución, lo que incluye también al hard. Dentro de diez años, ¿cómo crees que será la escena hard? ¿Habrá nuevos subgéneros?
R: Es muy difícil de decir, porque creo que incluso en un periodo corto de tiempo, 2-3 años, la música evoluciona mucho. Si te fijas en lo raw que se volvió el hardstyle, al menos una parte del hardstyle se volvió muy raw. Si lo comparas con el hardcore, también se ha vuelto más duro. Quizá el raw hardstyle de ahora se acerque más al hardcore.
Pero lo bueno del hardstyle es que hay muchas cosas en marcha. Los productores están haciendo estilos tan diferentes que eso es lo que lo mantiene interesante para mí. Si comparas lo que hace Sub Zero Project con lo que hace Radical Redemption, o si comparas el sonido de Wildstylez con los temas de Technoboy y Tuneboy. Hay muchas cosas: desde reverse bass hasta gated kicks, ¡influencias de todas partes!
Y de vez en cuando, en un género musical, aparecen algunos tíos que hacen algo revolucionario y todo el mundo se da cuenta de lo que hacen. Así es como la música sigue evolucionando y recibe influencias de otros géneros musicales. Para mí, el hardstyle es una escena muy sólida, y ha sido interesante desde el principio hasta donde estamos ahora. Es difícil decir qué va a ser dentro de 10 años, pero ves cómo las influencias del pasado vuelven, como los gated kicks y el reverse bass, ves que se introducen nuevos estilos de kicks… Es difícil decir a dónde va a llegar, pero es definitivamente interesante.
WS: The electronic music scene is constantly evolving, which includes hard music too. In ten years from now, how do you think the hard scene will be? Will there be any new subgenres?
R: That's really hard to say, because I think even in a short period of time, 2-3 years, the music evolves a lot! If you look at how raw hardstyle got, at least a part of hardstyle got really raw. If you compare it to hardcore, it also got more raw! Maybe the raw hardstyle from now is even more towards hardcore.
But the cool thing about hardstyle is that there's so much going on. Producers are making such different styles, that's what keeps it interesting for me. If you compare what Sub Zero Project does to what Radical Redemption does, or if you compare the sound of Wildstylez to the tracks of Technoboy and Tuneboy. There's a lot going on: from reverse bass to gated kicks, influences from everywhere!
And once in a while in a music genre, some guys pop up and they do something that's kind of revolutionary and everybody picks up on that. That's how music keeps on evolving and gets influences from other music genres. Hardstyle is for me a really solid scene, and it's been interesting from the beginning till where we are now. What's gonna be in 10 years it's really hard to say but because you see influences from the past come back like gated kicks and reverse bass, you see new style kicks being introduced…Where's gonna go it's hard to say but it is definitely interesting!
---
WS: No hace mucho entrevistamos a la otra mitad del dúo del que formas parte, Gunz For Hire. Con Adaro pudimos notar la química entre vosotros cuando estáis en el estudio pero… ¿Qué es para ti Gunz For Hire? ¿Es fácil encontrarse a sí mismo como artista cuando se colabora tan estrechamente con otro artista?
R: Lo mejor es que empezamos como amigos hace más de 10 años. Thijs y yo nos conocimos en un club donde él era dj residente y yo pinché allí. Empezamos a hablar de hardstyle, él se estaba comenzando a interesar por el subgénero, que yo ya estaba produciendo desde hacía un par de años. Nos metimos en el estudio juntos y establecimos una gran conexión personal. Como en toda relación, si quieres que funcione tiene que haber un equilibrio. Y nosotros tenemos un gran equilibrio.
Nunca nos peleamos, si hay una discusión siempre la resolvemos. En cuanto a la música, tenemos una gran sintonía y nos dimos cuenta, cuando empezamos a producir, de que cuando estamos juntos surge algo diferente que cuando producimos en solitario. Nos complementamos en ese sentido y creo que eso es lo más importante de ser un dúo juntos.
Muchos dúos se separan al cabo de un par de años, pero nosotros siempre hemos sido sólidos. Creo que tenemos una gran conexión y seguiremos haciendo esto durante años. Últimamente hemos estado muy ocupados trabajando para Gunz For Hire, hemos presentado 5 nuevos temas en Defqon.1 at Home ¡Que de hecho son un poco más raw! Cuando empezamos con Gunz For Hire éramos probablemente uno de las actuaciones más raw que había.
Como he dicho, el rawstyle ha evolucionado con los años hacia un estilo aún más raw. Siempre hemos hecho temas muy diferentes, que van desde el hardcore hasta lo melódico, y ahora nos dirigimos más hacia el raw de nuevo porque ambos sentimos que ahí es donde reside la identidad de GfH y estoy súper entusiasmado con los nuevos temas, ¡la gente debería echarles un vistazo! Hay un gran proyecto que se avecina este año, vamos a producir más temas para GfH, para el nuevo show que se va a llamar 'Seek & Destroy' ¡Estamos más on fire que nunca!
WS: Not long ago we interviewed the other half of the duo you're part of, Gunz For Hire. With Adaro we were able to notice the chemistry between you when you are in the studio but… What is Gunz For Hire for you? Is it easy to find yourself as an artist when you collaborate with another artist so closely?
R: The cool thing is we started out as friends more than 10 years ago. Thijs and me met in a club where he was a resident dj and I was playing there. We started talking about hardstyle, he was just getting interested in hardstyle which I was already producing for a couple of years. We went into the studio together and we got a really great personal connection. Like in every relationship, if you want it to work there has to be a balance. And we have a great balance!
We never have fights, if there's an argument we always solve it. Music wise we have a great click and we noticed when we started producing that when we were together something different comes up than when we're producing solo. We complement each other in that way and I think that's the most important thing of being a duo together.
You see a lot of duos splitting up after a couple of years and with us it has always been solid. I think we have a great connection and we'll keep on doing this for years. We've been very busy lately working for Gunz For Hire, we introduced 5 new tracks on Defqon.1 at Home. They're actually a little bit more raw! When we started with Gunz For Hire we were probably one of the most raw acts around.
As I said, raw hardstyle evolved over the years towards even more raw! We've always been doing tracks that are very different, ranging from hardcore to melodic tracks, and now we're heading more towards the raw stuff again because we both felt that's where the identity of GfH lies and I'm super excited about the new tracks, people should definitely check them out! There's a big project coming up this year, we're going to be producing more tracks for GfH, for the new show which is going to be called 'Seek & Destroy'. We're more on fire than ever!

---
WS: En caso de que tuvieras que trabajar en un dúo con otro DJ, ¿con qué otro artista o artistas crees que te sentirías cómodo trabajando? ¿Por qué?
R: Me siento un poco como si estuviera poniendo los cuernos, jajaja. Pero por supuesto, he colaborado mucho con otros chicos a lo largo de los años, con algunos de ellos he hecho varias colaboraciones porque tengo una buena conexión personal con ellos.
Los tíos con los que realmente me gusta trabajar son algunos como Hard Driver, creo que es un muy buen productor, un buen diseñador de sonido y un tipo realmente agradable. Tengo una muy buena conexión con él. Phuture Noize, tuve un par de grandes colaboraciones con él, ¡tiene un sonido realmente único! Zatox es mi héroe del pasado, uno de los que fue una gran inspiración al principio de mi carrera. También B-Front, Frequencerz… Es muy difícil de decir, no puedo nombrar a una persona pero creo que lo más importante es que tengas una buena conexión personal con alguien y que creativamente conectéis bien juntos. A algunos les tengo respeto porque están haciendo algo que les hace ser ellos. Son muy singulares.
WS: In case you had to work in a duo with another DJ, what other artist or artists you believe you'd be comfortable working with? Why?
R: That feels a little bit like cheating, haha! But of course, I've collaborated a lot with guys over the years, with some of them I did several collabs because I have a good personal connection with them!
The guys that I really like working with are some like Hard Driver, I think he's a very good producer, a good sound designer and a really nice guy! I have a really good connection with him. Phuture Noize, I had a couple of great collabs with him, he has a really unique sound! Zatox is my hero from the past, one of the guys that was a big inspiration at the beginning of my career. Also B-Front, Frequencerz…It's really hard to say, I can't name one person but I think the most important thing is that you have a good personal connection with someone and that creatively you connect good together. For some guys I have respect because they're doing something that makes them, them. Very unique!
---
WS: La segunda edición de Defqon.1 at Home fue en junio y lógicamente, Q-Dance quiso contar contigo para esta ocasión especial. Actuaste en la Blue Night de Roughstate, The Spotlight en solitario y también como Gunz For Hire, justo antes del cierre. ¿Qué pudimos ver de ti en este gran livestream? ¿Preparaste un set con mucha música nueva?
R: Por supuesto, ¡produje música nueva! Siento que Defqon es siempre una gran plataforma para presentar nueva música porque siempre hay mucho hype a su alrededor. A todos nos gusta Defqon, no quiero herir los sentimientos de nadie pero… ¡es al menos uno de mis favoritos! Produje música nueva para mi set de The Spotlight: ¡dos tracks nuevos! Una es una colaboración con Sound Rush y Le Prince, llamada 'We Are The Storm'. Le Prince cantó el tema en directo, lo cual es muy bonito, al igual que 'Fight Fire With Fire', ¡así que esa fue la actuación en directo en el set!
También hice un nuevo tema con XCEPTION y Diesel, que se llama 'Heaven & Hell'. También pinché un par de las nuevas de GfH en mi set, como 'It's A Hard Knock Life' y 'Seek & Destroy', porque siento que también es una parte de mí y quiero que la gente escuche esos temas lo más posible ahora.
Con GfH ya dije que teníamos cinco temas nuevos en ese set. Espero que la gente esté entusiasmada. Siempre es emocionante ver cómo reacciona la gente a tus temas, por supuesto, y ahora nos falta la conexión porque no podemos tocarlos en directo para ellos. Normalmente ves enseguida que el público se vuelve loco, que los temas funcionan muy bien y ahora nos limitamos a ver el streaming desde casa y a ver las reacciones online.
WS: The second edition of Defqon.1 at Home was in June and logically, Q-Dance wanted to count on you for this special occasion. You performed the Blue Night by Roughstate, The Spotlight by yourself and also as Gunz For Hire, right before the closing. What could we see from you in this massive livestream? Did you prepare a set with tons of new music?
R: Of course, I produced new music! I feel like Defqon is always a great platform to introduce new music because there's always a lot of hype around it. We all love Defqon, I don't wanna be hurting anyone's feelings but…it is at least one of my most favourites! I started producing new music for my Spotlight set: two new tracks! One is a collab with Sound Rush and Le Prince, called 'We Are The Storm'. Le Prince sang the track live, which is pretty cool, as well as 'Fight Fire With Fire', so that was the live performance in the set!
I also made a new track with XCEPTION and Diesel, it's called 'Heaven & Hell'. I also played a couple of the new GfH tracks on my set like 'It's A Hard Knock Life' and 'Seek & Destroy', because I feel that's also a part of me and I want people to hear those tracks as much as possible now.
With GfH I already said we had five new tracks in that set. I hope people are excited about it! It's always exciting to see how people would react to your new tracks, of course, and we are missing the connection now because we can't play it live for the people. Normally you immediately see that the crowd is going wild, the tracks is working really well and now we've been just watching the stream from home and seeing the reactions online.
---
WS: En 2015 tuviste la oportunidad de crear el himno del evento y produjiste 'No Guts No Glory'. ¿Qué sentiste al trabajar en la banda sonora de un evento tan importante? Si pudieras volver a hacerlo, ¿qué título le pondrías al tema?
R: Siempre es un gran reto trabajar en un anthem, especialmente para un gran evento como este, porque todos los ojos están puestos en él y todo el mundo tiene una opinión. Sólo quieres hacer algo bueno, algo único y que encaje con el ambiente y la temática del evento.
En cuanto al título que le daría, suele depender de Q-Dance, porque siempre tienen una temática para el evento de ese año. El año que fue 'No Guts No Glory' hablamos de la atmósfera que estaban buscando y ahí es donde empezó todo. A partir de ahí, hice la melodía y comencé a trabajar en las vocales para incorporar la temática al himno y conseguir el ambiente adecuado.
Los proyectos de este tipo pueden ser bastante estresantes porque lo único que quieres es hacer algo grande. Recibes esa gran oportunidad y lo pones todo en marcha porque hacer música es algo muy personal. Y con 'No Guts No Glory' en realidad tuvo bastante éxito, todo el mundo conoce el tema, todo el mundo grita con la melodía, así que estoy muy orgulloso de ese track. He hecho nueve anthems en total, creo, y todavía falta uno en la lista, así que… ¿quién sabe? Quizá en el futuro haga otro.
WS: In 2015 you had the opportunity to create the anthem of the event and you produced 'No Guts No Glory'. How did it feel to work on the soundtrack of such an important event? If you could do it again, what title would you give to the track?
R: It's always a big challenge to work on an anthem, especially for a big event like that because all the eyes are on that anthem and everyone has an opinion about it. You just want to make something good, something unique and that fits with the vibe and the theme of the event.
Regarding the title I'd give it, that's usually up to Q-Dance because they always have a theme for the event that year. So the year that was 'No Guts No Glory' we talked about the vibe they were aiming for and that's where it all started. From there on, I make the melody, I start working on vocals to incorporate that theme into the anthem to get the right vibe.
Projects like this can be pretty nerve-racking because you just want to make something great. You get that great opportunity and you put everything into it because making music is something very personal. And with 'No Guts No Glory', that actually succeeded pretty well, everybody knows the track, everyone screams along with the melody, so I'm pretty proud of that track. I made nine anthems in total, I think and there's still one missing on the list so…who knows? Maybe in the future I will make another anthem!
---
WS: Tu remix a 'Zombie' sigue estando en las posiciones más altas de algunas de las mejores listas de hardstyle de la actualidad; y 'Run From Reality' alcanzó el número 2 en el Top 100 de canciones de hardstyle de Q-Dance. ¿Cuál es tu secreto para producir temas tan exitosos? ¿Crees que es importante encontrar "tu propio sonido" para alcanzar la plenitud?
R: Quizá otras personas puedan juzgar eso mejor que yo mismo, pero como he dicho, mi estilo ha evolucionado a lo largo de los años. A veces me gusta producir un tema muy raw como 'MGFY' y otras veces quiero producir un tema que sea más eufórico con la parte vocal y que tenga más mensaje. Así que no sé si puedo decir que tengo un estilo realmente específico.
Soy bastante perfeccionista y la gente que trabaja conmigo lo sabe. Trabajo mucho en el diseño del sonido, me encanta trabajar con las vocales… Creo que eso es lo que mejor describe mi sonido. Cuando escribo un tema, no creo que haya una gran fórmula para escribir éxito. Simplemente haces algo que crees que suena bien en ese momento y luego hay todos esos otros factores que hacen que sea un gran éxito. Por supuesto, el tema en sí, pero también el lugar en el que lo tocas por primera vez.
También he hecho temas que creía que iban a llegar más lejos de lo que lo han hecho, y he hecho temas que han explotado por completo, ¡y me he quedado alucinado! Así que para responder a tu pregunta, no creo que haya una fórmula para escribir un éxito. Por supuesto incorporas cosas que crees que son pegadizas, por ejemplo, escribo partes vocales que creo que a la gente le encantaría cantar y que tienen un gran mensaje. Pero no es que te sientes y digas: "Voy a escribir un éxito ahora". Es algo más como: "Estoy trabajando en esta canción y quiero hacer algo que encaje con eso". Y una vez es un tema muy y la otra es más eufórico. Eso es lo que me gusta hacer, producir en una gama muy amplia. Eso es lo que hace que siga siendo interesante para mí. Es muy fácil hacerse fan de algo que se puede encasillar fácilmente. Pero a mí me gusta producir ambas cosas dentro de un cierto rango, no produzco súper eufórico o raw súper ultra oscuro, sino algo intermedio.
WS: Your remix to 'Zombie' is still on the highest positions in some of the best hardstyle playlists nowadays; and 'Run From Reality' reached number #2 on the Top 100 hardstyle songs by Q-Dance. What is your secret to produce such successful tracks? Do you believe it is important to find "your own sound" in order to reach fulfilment?
R: Maybe other people can judge that better than myself, but like I said, my style evolved over the years. Sometimes I like to produce a really raw track like 'MGFY' and other times I want to produce a track that is more euphoric with vocal part and that has more of a message to it. So I don't know if I can even say that I have a really specific style.
I'm pretty perfectionist and people who work with me know that. I work a lot on sound design, I love working with vocals…I think that's what describes my sound the best. When I write a track, I don't think there's one big formula of writing a hit. You just make something that you think sounds great in that moment and then there's all those other factors that make it a big hit. Of course the track itself, but also where you play it the first time.
I've also made tracks that I thought would do way better than they did, and I've made tracks that fully exploded, you know, I was blown away! So to answer your question, I don't think there's a formula of writing a hit. Of course you incorporate things that you think are catchy, for example, I write vocal parts that I think people would love to sing along with and that have a great message. But it's not like you sit down and you're like: "I'm gonna write a hit now". You're like: "I'm working on this track and I want to make something that fits with that". And one time is a really raw track and the other time is more euphoric. That's what I love doing, just producing in a really wide range. That's what keeps it interesting for me! It's very easy to become a fan of something that can be boxed easily. But I like to produce both within a certain range, I don't produce super euphoric or super ultra dark raw, but something in between!
---
WS: Hablando de sentirse pleno, ¿cómo fueron los últimos meses para ti? ¿Afectó la pandemia a tu creatividad o te dio un impulso de motivación?
R: No influyó en mi creatividad porque creo que es algo que fluye. Para mí, no importa cuál sea la situación porque al menos tuve mi creatividad. Creo que me adapté a la situación, seguí haciendo música, videoclips, hicimos los livestreams en el Fortress, las sesiones de WRTN, empecé mi nuevo show en mi casa: 'WRTN Homebase', que hacíamos cada dos semanas. Eso es lo que me hizo seguir adelante, porque si no tuviera eso, habría sido bastante deprimente.
Por supuesto, era una mierda que no pudiéramos seguir actuando, porque siempre existe esa conexión de hacer un tema y tocarlo para la gente. De ahí es de donde sacas lo mejor de ti. Haces el tema y luego el momento de tocarlo por primera vez es realmente genial y he visto que el tema evoluciona y crece con la gente y consigue reacciones locas del público. Por eso lo haces, y definitivamente lo echo de menos.
Así que sí, creativamente creo que no ha cambiado nada, no me ha influido en ese sentido. Personalmente, soy un tipo que tiene instinto de lucha. No me voy a rendir, nunca. Si hay una situación difícil, intentaré fluir con ella y sacar lo mejor de la misma. Eso está en mi carácter. Así que, en cierto modo, creo que me dio un impulso de motivación. Mirando ahora lo que hicimos en ese periodo, estoy muy orgulloso del equipo que me rodea, ¡lo hicimos lo mejor que pudimos!
WS: Talking about fulfilment, how were the last months for you? Did the pandemic actually affect your creativity or did it give you a boost of motivation?
R: It didn't influence my creativity because I think that's something that flows. For me, it doesn't matter what the situation is because at least I had my creativity! I think I adapted to the situation, I still kept on making music, videoclips, we did the fortress livestreams, the WRTN sessions, I started my new show which is actually in my home: 'WRTN Homebase', which we did every two weeks. That's the thing that kept me going, because If I didn't have that, it would've been pretty depressing.
Of course, it was pretty shit that we couldn't perform anymore because there's always this connection of making a track and playing it for the people. That's where you get your kick from! You make the track and then the moment of playing it for the first time is really great and I've seen the track evolve and grow with people and getting insane crowd reactions. That's why you do it for and I definitely miss that!
So yeah, creatively I think nothing changed, it didn't influence me in that way. Personally, I am a guy who has a fighting instinct. I'm not going to give up, ever. If there's a tough situation, I'll try to flow with that and make the best out of it. That's in my character. So in a way, I think it did give me a boost of motivation! Looking back now to what we did in that period, I'm pretty proud of the team that is around me, we made the best of it!
---
WS: Por último, pero no menos importante, nos gustaría que hablaras de otros subgéneros. ¿Cuál sería tu top 3 de artistas fuera de la escena hardstyle pero que producen música electrónica?
R: Esa una pregunta muy difícil porque hay muchos estilos diferentes. Flume, Odesza, Lost Frequencies, Martin Garrix… Cuando se trata de hardcore: Tha Playah, N-Vitral… ¡hay tanta música genial por ahí! Me gusta cuando los tíos hacen algo fresco, porque te inspiras en ello. También me gusta escuchar dubstep, a gente como Virtual Riot, porque el diseño de sonido tiene una gran relación con el hardstyle y puedes incorporarlo a tu propia música.
WS: Last but not least, we would want you to talk about other subgenres. What would be your top 3 of artists out of the hardstyle scene but who produce electronic music?
R: That's a really hard question because there are so many different styles! Flume, Odesza, Lost Frequencies, Martin Garrix…When it comes to hardcore Tha Playah, N-Vitral…so many cool music out there! I like it when guys make something fresh, because you get inspiration from that! I also like listening to dubstep, guys like Virtual Riot, because sound design-wise there's a big click there with hardstyle and see how you can incorporate that in your own music.
---
Preguntas cortas:
Canción preferida de tu último álbum: 'Zombie' ¡ese tema explotó! Hizo mucho por mi carrera. Es uno de los temas de mi juventud, por eso le hice un remix. Me encanta la original.
Canción favorita de este año de un artista que no sea de hardstyle: 'Marea (We've Lost Dancing)' – The Blessed Madonna
Festival favorito de tu adolescencia: Inner City
Artista de frenchcore preferido: Sefa
La estrella musical más importante de la historia para ti: Freddie Mercury, porque escuchaba mucho a Queen cuando era niño. Tiene un lugar especial en mi corazón.
Un imprescindible en tu rider: Vodka y Bacardi
Dos artistas que hayan marcado tu carrera musical: Zatox, TNT, Noisecontrollers… ¡Los que iniciaron el hardstyle! Yo era un gran fan de Zatox en su día, solía poner todos sus vinilos y sigue siendo un gran productor. Y Vangelis, porque lo escuchaba mucho de pequeño. Quizá muchos de los lectores no lo conozcan, ¡buscadlo! Es un gran compositor.
Short questions:
Song you like the most in your last album: Zombie, that track just exploded! It did so much for my career. It's one of the tracks of my youth, that's why I even remixed it. I just love the original.
Favourite song from this year by a non-hardstyle artist: 'Marea (We've Lost Dancing)' – The Blessed Madonna
Your favourite festival when you were a teenager: Inner City
Your favourite Frenchcore artist: Sefa
The most important music star in history according to you: Freddie Mercury, because I listened to Queen so much as a kid. He has a special place in my heart!
A must in your rider: Vodka and Bacardi
Two artists that have marked your musical career: Zatox, TNT, Noisecontrollers…guys that kickstarted hardstyle! I was such a big Zatox fan back in the days, I used to play all his vinyls and he is still a great producer! And Vangelis, because I used to listen to it a lot as a kid. Maybe a lot of the readers don't know him, look it up! He's a great composer.