Entrevistamos a Atmozfears, uno de los artistas más dinámicos del hardstyle actual, que pronto presentará su álbum debut
Nuestro protagonista de hoy es Tim van de Stadt o como todo el mundo le conoce en la escena, Atmozfears. Con años explorando su creatividad y versatilidad en el hardstyle, el enfoque musical de Atmozfears ha calado más allá del subgénero que le ha visto nacer y le ha llevado a colaborar con artistas como el mismísimo Hardwell, y a crear verdaderos himnos como 'Release' o 'Accelerate'. De prodigio en ascenso a figura sólidamente establecida, hoy Tim nos da detalles sobre su próximo álbum '[this is my story]', su segundo alias en TAC Team, así como su opinión sobre las distintas variantes del hard.
---
Wololo Sound – ¡Hola Tim! Es un placer para nosotros tenerte en nuestro medio. A pesar de las dificultades que el 2020 nos ha traído hasta ahora, estamos de suerte porque pronto disfrutaremos de tu música en forma de un álbum debut. ¿Cuál es la esencia de '[this is my story]'?
Atmozfears – Trata de no limitarme más a esas barreras imaginarias que todo el mundo se pone. Especialmente en nuestra escena, tendemos a encasillarnos rápidamente debido a las grandes masas y terminas siguiéndolas. Era el momento de que empezase a dirigir, de escucharme a mí mismo y dejar que todas las dudas se fuesen.
Wololo Sound – Hi Tim! It's a pleasure for us to have you in our media. Despite the difficulties that 2020 is bringing us up to now, we are in luck because we'll soon enjoy your music in the form of a debut album. What's the essence of '[this is my story]'?
Atmozfears – It's about no longer limiting myself to those imaginary barriers everyone sets up for themselves. Especially in our scene, we tend to get boxed in quickly by the masses and you end up following. It was time for me to start leading, and listening to myself, and letting every doubt go.
---
WS – Ya tuvimos un adelanto el pasado marzo con el lanzamiento de 'my story'. Pero, ¿cómo ha sido todo el proceso de producción y en qué se diferencia del resto de su trabajo?
A – Quería empezar con una canción más al estilo "Atmozfears" antes de sumergirme en las profundidades de lo desconocido. Sí, habrá melodías clásicas de Atmozfears aquí y allá, pero en realidad soy muy fluido en cuanto al género y quiero tratar de incorporar eso en mis canciones. No todo va a ser hardstyle, también he fijado el objetivo de meter una canción de hardcore, quizás incluso algo de drum and bass si puedo convencer a mi equipo directivo, jaja. Pero aparte de eso, estos últimos años me he centrado demasiado en querer hacer este nuevo lanzamiento y finalmente he sido capaz de dejar la presión a un lado y dejarme llevar por la creatividad.
Relacionado: Atmozfears abre paso hacia su próximo álbum con 'my story'
WS – We already had a preview last March with the release of 'my story'. But how has the entire production process been and how is it different from the rest of your work?
A – I wanted to kick it off with a more 'atmozfears' styled tune before I dive into the depths of weirdness. Yes, there's gonna be classic atmozfears tunes here and there, but I'm actually really genre-fluid and wanna try to incorporate that in my tracks. It's not all going to be hardstyle, I also set a goal to put in a hardcore tune as well, perhaps even some weird drum & bass if I can convince my management, haha. But other than that, I've been focusing too much last years on wanting to make that new release again, and I've finally been able to let that pressure slide and let myself go creatively.
---
WS – Tus temas han visto la luz a través de diferentes sellos entre los que destacan Scantraxx o Q-Dance Records. ¿Cómo lo hiciste para llegar a lanzar tu música a través de los sellos más grandes de la escena hard? ¿Alguna vez has pensado en crear tu propio sello?
A – Lo he hecho y lo he intentado (con Spirit of Hardstyle) pero es demasiado trabajo y si no quieres hacerlo todo por tu cuenta, también será caro. Tampoco quiero distanciarme demasiado de mis colegas, porque todos confiamos en el apoyo de los demás. En cuanto a la parte de entrar en una gran discográfica, di con JDX, que me remitió a Wildstylez y ambos me guiaron hasta donde estoy ahora.
WS – Your tracks have been released through different labels such as Scantraxx or Q-Dance Records. How did you manage to get your music released through the biggest labels in the hard scene? Have you ever thought of creating your own label?
A – I have, and have attempted too (Spirit of Hardstyle) but it's too much work and if you don't want to do it all by your own it's going to be expensive, too! I also don't want to distance myself too much from my colleagues, because we all rely on each other for support. As for the getting on a big label part, I got picked up by JDX who then referred me to Wildstylez, who both guided me towards where I am now.
---
WS – Otro plato fuerte para tu carrera musical este año es tu incorporación a TAC Team, junto a Code Black y Toneshifterz. ¿Cómo surgió esta unión? ¿Veremos música nueva bajo este alias?
A – TAC Team es simplemente épico, incluso sin hacer música o actuaciones. Corey, Elie y yo nos llevamos muy bien y cada vez que nos reunimos hacemos cosas estúpidas, pero divertidas. Esto es lo que hizo que surgiese TAC Team, donde dejamos de lado todos los límites y no hacemos lo que solemos hacer (tardar meses en terminar una pista). Ya tenemos tanta música como para sacar un álbum, pero lanzar algo nuevo en estos tiempos es un no rotundo, así que estamos esperando a que la escena se recupere y luego ¡la conquistaremos!
WS – Another highlight of your musical career this year is the creation of TAC Team, along with Code Black and Toneshifterz. How did this union come to life? Will we see new music under this alias?
A – TAC Team is just epic, even without the music making bit or the performances, Corey, Elie and me get a long really well and everytime we get together we just do dumb, but fun stuff. This is what led to TAC team, where we let go of all the boundaries and don't do what we usually do (taking months to finish a track). We already have an albums worth of music, but launching a new act in these times is a no-no, so we're waiting for the scene to recover and then we'll conquer!
---
WS – Hemos comprobado tu capacidad para salir de tu zona de confort produciendo, con temas como tu remix a San Holo o tu reciente chill mix a 'Accelerate'. ¿Cómo de importante crees que es probar cosas nuevas como artista? ¿Te visualizas dándole un giro a tu estilo de producción?
A – Si dejas de pedalear una bicicleta, te caerás. Además, no siempre puedes seguir conduciendo recto porque al final te chocarás con algo. Eso es lo que explorar nuevos géneros significa para mí, impide que me vuelva loco.
WS – We've verified your ability to get out of your comfort zone when producing, with tracks like your remix to San Holo or your recent chill mix to 'Accelerate'. How important do you think it is to try new things as an artist? Do you see yourself giving a twist to your production style?
A – If you stop cycling, you'll fall over. Also, you can't always keep driving straight because you're bound to hit something, eventually. This is what making random genres does for me, it keeps me from going coocoo.
---
WS – Eres un DJ muy activo con sus fans en redes sociales, que actualmente es una de las herramientas con más poder en la industria musical. ¿Qué es lo que has aprendido de tus seguidores? ¿Qué formas de comunicación le recomendarías a un artista principiante para hacerse conocer?
A – He aprendido la importancia de entender realmente lo que mi música le hace sentir a la gente y sólo puedes saberlo cuando te acercas a ellos. A veces, mi mente viaja a lugares oscuros y cosas como esta me equilibran.
Si estás empezando, mantente en silencio y trabaja duro al principio. Cuando finalmente estés satisfecho con algo, trata de hacer llegar tu música a tus ídolos y cuando las cosas están destinadas a ser, ellos comenzarán a apoyar tu música y así harás que tu nombre sea grande. Ten en cuenta que no hay un ticket de oro hacia el "éxito" y que a la hora de hacer música eso nunca debe ser un objetivo, sino algo derivado. He trabajado años y años sin pensar en "hacerme famoso", solo hacía música porque podía perderme en ella.
WS – You are a very active DJ with your fans on social media, which is currently one of the most powerful tools in the music industry. What have you learned from your fans? What communication method would you recommend to an artist who is about to begin to make himself/herself known?
A – I've learned the importance of actually understanding what some of my music does to people, and you can only find out when you get close to them. My mind travels to dark places sometimes, and things like that balance me out.
If you're starting out, stay quiet and working hard in the beginning. When you're finally satisfied with something, try to pitch your music towards your idols, and when things are meant to be they'll start supporting your music and by that you get your name out! Please note, there's no golden ticket to 'success', and with making music, that should never be a goal, just a by-product. I've worked years and years never even thinking of 'becoming famous', I just made music because I could get lose myself in it.
---
WS – Determinados artistas como Hardwell te han apoyado desde hace años. ¿Crees que el hecho de que algunos top DJs lleven los últimos años pinchando hardstyle ha ayudado al crecimiento del género? ¿Te ves colaborando en el futuro con algún artista 'mainstream'?
A – ¡Claro! Es bueno que nuestro sonido salga a la luz, pero también genera un montón de canciones aleatorias de mierda que nadie debería escuchar. Nosotros, los productores de hardstyle – y creo que puedo hablar por la mayoría de nosotros – pasamos mucho tiempo trabajando en la calidad de nuestra música y hay un montón de cazadores de influencias por ahí que piensan que usar un kick sampleado de Frontliner o Noisecontrollers bajo un creech estirado de muy mala calidad les va a llevar a alguna parte. Por desgracia, temas como estos se pinchan en los escenarios principales y arruinan instantáneamente la palabra "hardstyle" para mucha gente que no la ha escuchado antes.
WS – Certain artists like Hardwell have been supporting you for years. Do you think the fact that some top DJs have been playing hardstyle for the last few years has helped the genre grow? Do you see yourself collaborating with any mainstream artists in the future?
A – Of course! It's good to get our sound out there, but it also generates a lot of random, bullshit tracks that no one should ever listen to. Us hardstyle producers, and I can think I can speak for most of us, spend a lot of time on the quality of our music, and there are a lot of clout chasers out there who think slapping a sampled Frontliner or Noisecontrollers kick under some stretched out chickenscreech will get them somewhere. Unfortunately, tracks like these get played out on mainstages and instantly ruins the word hardstyle for a lot of people who haven't heard it before.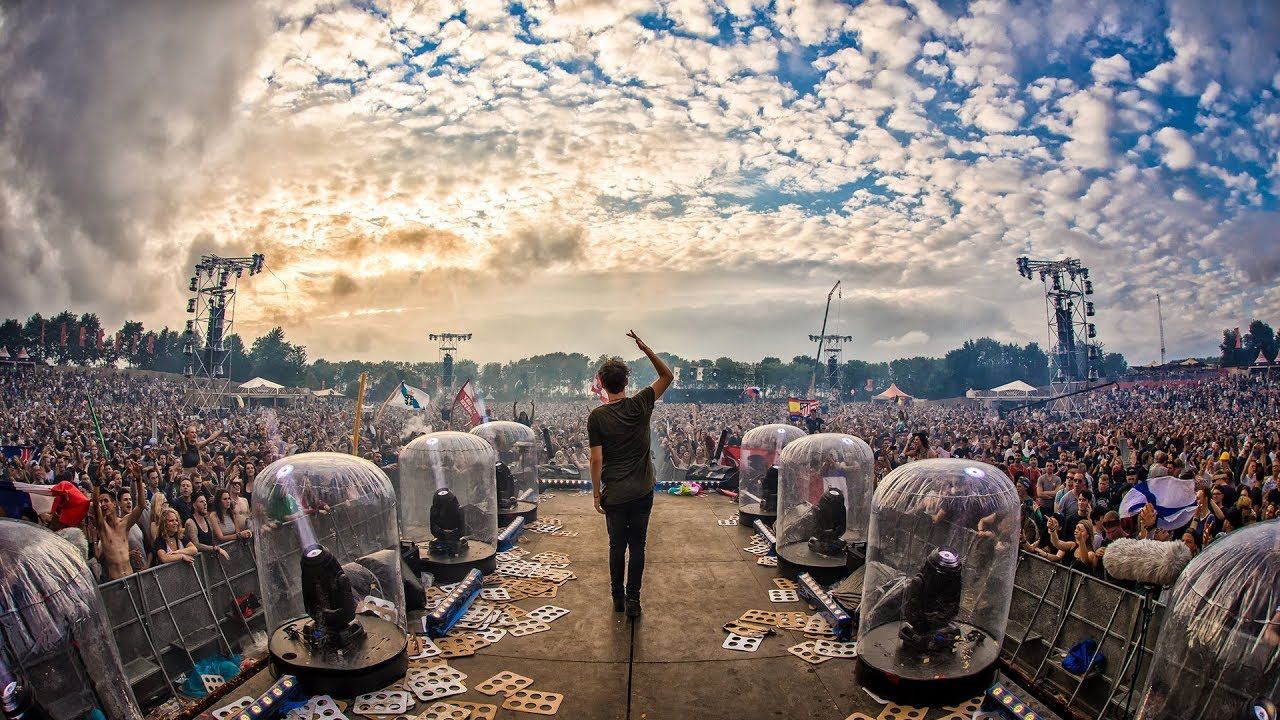 ---
WS – La música hard engloba un amplio abanico de subgéneros. No obstante, de cara al exterior parece que el hardstyle y el hardcore predominan por su popularidad. ¿A qué crees que se debe esto? ¿Crees que esta situación podría cambiar en el futuro?
A – Probablemente sea porque estos son los géneros que abrieron paso. Apuesto a que mucha gente ni siquiera ha oído hablar de la mayoría de los géneros porque siguen siendo muy underground… Espero que eso cambie alguna vez, ¡hay oro ahí afuera!
WS – Hard music encompasses a wide range of sub-genres. However, on the outside it seems that hardstyle and hardcore are predominantly popular. Why do you think this is? Do you think this situation could change in the future?
A – It's probably because these are the genres that broke through. I bet that most people haven't even heard of most genres because they're still so underground… I hope that changes sometime though, there is some gold out there!
---
Para terminar, unas preguntas cortas:
-Recuerdo favorito de tu infancia: Ver los cazas F16 con mi abuelo.
-Productor de techno al que admiras: Elie Elijah
-Artista de otro subgénero con el que te gustaría colaborar: Habstrakt, Kill The Noise, San Holo
-Profesión que te gustaría haber desempeñado si no fueses DJ: Diseñador de videojuegos, programador
-Tu videojuego favorito: Call of Duty, Rocket League, CS:GO & Battlefield V
-Tu bebida favorita mientras pinchas: El agua picante (vodka :P)
Finally, some short questions:
-Favourite childhood memory: Watching F16 fighters with my grandpa.
-Name a techno producer you admire: Elie Elijah
-Artist out of the electronic music scene you'd like to collab with: Habstrakt, Kill The Noise, San Holo
-Job you'd like to have had if you weren't a DJ: Gamedesigner, Programmer
-Favourite videogame: Call of Duty, Rocket League, CS:GO & Battlefield V
-Favourite drink while you perform: Spicy water (vodka :P)