¿Algunas vez te has preguntado cómo sería estar de tour con lo más top de la electrónica? ¿Cuáles son las claves para fotografiar los momentos más épicos de la élite musical? ¿Cómo se llega a conseguir un trabajo así en la industria? La maltesa Emma Tranter, nuestra penúltima protagonista de 'La Otra Escena', responde a esas y muchas otras preguntas a través de su experiencia como tour manager de las gemelas Nervo y como fotógrafa y creadora de contenidos de artistas de la talla de Jamie Jones o Sigala.
---
Wololo Sound – ¡Hola Emma! Es un honor tenerte en nuestro medio en esta entrevista exclusiva para España. Para aquellos que no te conozcan, ¿quién es Emma Tranter y qué papel desempeñas actualmente en la industria musical? ¿Cómo llegaste hasta un puesto de trabajo como este?
Emma – ¡Hola Wololo Sound! Soy Emma y soy creadora de contenidos para algunos de los principales artistas internacionales de la industria musical. Los requisitos de mi trabajo juegan varios papeles que van desde tour manager, a fotógrafo, a gestión de redes sociales para los artistas… y por supuesto, todos los pequeños papeles que vienen con los requisitos de preparación para las giras.
Empecé a una edad temprana llevando una cámara de bolsillo conmigo a todas partes. Era muy curiosa y estaba constantemente haciendo fotos, capturando felizmente momentos que se convirtieron en recuerdos. Mi madre es una bailarina y yo estaba a menudo con ella en los estudios y en el teatro, rodeada de otros artistas interdisciplinarios. Así que siempre estuve muy comprometida e interesada en las artes escénicas. También crecí entrenando en diferentes estilos de danza y actuando en muchos eventos teatrales. Estas oportunidades me expusieron aún más con una visión hacia el arte. Me enamoré de capturar el movimiento no solo estéticamente, sino mirando desde una lente más profunda en la personalidad del bailarín mostrando estados vulnerables dentro y fuera del escenario.
Decidí perseguir y poner en marcha mis intereses fotográficos a mayor escala dentro de la industria musical como fotógrafa local en mi país natal, la isla de Malta. Pasé muchas horas capturando momentos y eventos de muchos clubes. Estas experiencias me ayudaron a crecer, estableciendo contactos con algunas personas clave dentro de esta industria que creyeron en mi trabajo y comenzaron a confiarme los conciertos y festivales más grandes de la isla. Trabajé duro y sacrifiqué gran parte de mi vida social desde muy joven ya que era una apasionada de la fotografía, invirtiendo toda mi atención ya que la mayoría de las noches me preparaba para ver qué artistas internacionales visitarían mi país. Me aseguraba de estar presente para fotografiarlos y hacer esfuerzos para promocionarme y ponerme en contacto con el promotor. Durante mi infancia me perdí muchos momentos con mis amigos y dediqué el tiempo a practicar constantemente la fotografía de artistas y de eventos variados semana tras semana. Estaba muy concentrada y sabía en lo más profundo de mi ser que quería aprender más creciendo dentro de la red internacional con el objetivo de hacer que mi trabajo se notara.
De hecho, después de varios años, fui reclutada por las DJ femeninas número uno del mundo, Nervo, para recorrer el mundo con ellas. Empecé como creadora de contenidos con ellas, pero luego se me confió un papel más importante como tour manager, además de documentar todo el viaje de la vida en la carretera.
Wololo Sound – Hello, Emma! It is an honour to have you in our media in this exclusive interview for Spain. For those who do not know you yet, who is Emma Tranter and what role do you currently play in the music industry? How did you get to a job like this?
Emma – Hello Wololo Sound! I'm Emma and I am a content creator for some of the major international artists in the music industry. My work requisites play various roles ranging from tour manager, to photographer, to social media management for the artists … and of course, all the micro roles that come with the requirements of prepping for tours!
I started off at a young age carrying a pocket camera around with me wherever I went. I was very curious and constantly snapping away, happily capturing moments which became memories. My mother is a dance artist and I was often with her in the studios and in the theatre, surrounded by other interdisciplinary artists. So, I was always very engaged and interested in the performing arts. I also grew up training in dance styles and performing in many theatre events. These opportunities exposed me further with an insight to the arts. I fell in love capturing movement not only aesthetically but looking from a lens deeper into the personality of the dancer exposing vulnerable states of being on and off stage.
I decided to pursue and kick start my photographic interests on a larger scale within the music industry as a local photographer in my home country the island of Malta. Many hours were spent capturing moments and events of many club nights. These experiences helped me grow, networking with a few key people within this industry who believed in my work and began entrusting me with the larger scale local concerts and festivals on the island. I worked hard and sacrificed a lot of my personal social life from a very young age as I was passionate about photography, investing all my focus as most nights I would be prepping to see which international artists would be visiting my country. I would ensure to be present to photograph them and make efforts to market and get in touch with the promoter. Growing up I missed out a lot on many social events with my friends and dedicated the time to constantly practice photographing artists at varied events – week in, week out – I was really focused and knew deep inside I wanted to learn more by growing within the international network aiming to get my work noticed.
In fact, after a number of years, I got scouted by the world's number 1 female DJs, NERVO – to tour the world with them. I began as a content creator with them, but then was entrusted with a bigger role of being the tour manager, as well as to document the whole journey of life on the road.
---
WS – La figura del tour manager puede confundirse con la del mánager. ¿Cuáles son las diferencias?
E – Estos papeles son muy diferentes. Un manager se encarga de todos los preparativos y la administración, la negociación de acuerdos con los festivales, promotores y clubes, así como de muchas otras decisiones importantes, como los contratos de marca, la gestión de los lanzamientos, o las nuevas colaboraciones con otros artistas. Este es el trabajo general de la gestión de un artista.
Mi papel como tour manager consiste en encargarme de toda la organización detallada del viaje, vuelos, alojamiento, recogidas, comidas, entrevistas… son solo algunos ejemplos, en todo el mundo. Esto va desde asegurarse de que los artistas y el equipo lleguen a tiempo a su destino, ya sea el aeropuerto o un show, coger los vuelos, ocuparse del transporte y la facturación. Sin embargo, la mayoría de esto ocurre durante la actuación. Desde mi experiencia, mi papel consiste en ocuparme de la gestión general del show durante el tiempo establecido, empezando por la prueba de sonido para asegurarme de que está todo el equipo requerido por los artistas, así como la prueba de sonido general. También me aseguro de que todos los efectos y pirotecnia se activen con canciones específicas, que los visuales de los artistas estén en funcionamiento mientras se comprueba que el diseño general de las luces esté como quieren los artistas sin que haya errores.
Definitivamente requiere mucha comunicación con los promotores y los enlaces de los artistas para asegurarse de que los camerinos tienen el rider de los artistas, todos los horarios de los sets están confirmados y que haya absoluta seguridad. Tuve que aprender rápido y aprovechar mis habilidades de organización (mi carrera fue útil aquí). En general, tuve muchas tareas, pero estaba sedienta por aprender. Muchas veces fui por mí misma un equipo de touring, ¡cumpliendo el papel de 3 personas en una! Y muchas noches de insomnio después, aprendí a prepararme para afrontar cualquier problema (que siempre surgía) durante los viajes o en los shows. Es muy emocionante, pero no os equivoquéis, ¡hay mucho que hacer!
WS – The figure of the tour manager can be confused with that of the manager. What are the differences between both roles?
E – These roles are very different. A manager takes care of all preparations and administration such as negotiating deals with festivals, promoters and clubs, as well as taking care of many other major decisions, such as branding contracts, dealing with music releases as well as working towards new collaborations with other artists, this is the overall work of managing an artist.
My role as a tour manager consisted of taking care of all detailed travel arrangements, flights, accommodation, pickups, meals, interviews, are just some examples, all around the globe . This ranges from making sure the artists and the team get to where they need to be on time whether it's the airport or a show, catching flights, dealing with transport and check-ins. However, the majority of this happens during the show. From my experience, my role consisted of dealing with the overall management of the show during our set time – beginning from sound check to make sure there is all the requested equipment that the artists require, as well as testing the overall sound. Other aspects would be to make sure all effects and pyro go off with specific targeted songs, ensuring the artists visuals are up and running whilst double checking that the overall design of the lights is according to the artists' vision with no shortcuts.
It definitely requires lots of communication with promoters and artists' liaisons to make sure dressing rooms have the artists rider, all set times are confirmed and there absolutely must be security. I had to learn fast and tap into my organizational skills (my degree came in handy here). Overall I had many tasks thrown at me, but I was thirsty to learn. Many times I was a 'solo' touring party actually filling the role of 3 people in one! And many sleepless nights later. I learnt how to be prepared to deal with any problems (which always arose) during travelling or at actual shows. It is very exciting but make no mistake there's a lot to it!
---
WS – Lo primero que nos llama la atención de tu carrera es el trabajo con Nervo. Conseguir trabajar con Mim y Liv Nervo no debe ser fácil. ¿Cómo llegaste a ellas? ¿Cuál es tu relación personal con ellas?
E – ¡Sí, he trabajado con Nervo durante los últimos tres años! Me reclutaron en un evento en mi país, fue una fiesta de Pacha on Tour para ser exactos. Estaba en un club filmando para el promotor local, y me esforcé en capturar las mejores y más únicas fotos de ese evento – como expliqué anteriormente mi experiencia en las artes escénicas ha ayudado a mi perspectiva de cómo veo a los artistas en la actuación. Traté de capturarlas lejos de la fotografía estándar que se suele tomar en las fotos de club. Recuerdo claramente que las chicas tenían una energía impecable, son extremadamente fotogénicas, y como sujetos esto ayudó a que las imágenes cobraran vida. Hice todo lo posible para capturar los momentos adecuados ¡y valió la pena!
Seis meses más tarde, recibí una llamada telefónica por sorpresa de su manager. A Nervo le encantaron las imágenes que había hecho y me invitaron a ir de gira con ellas. Por desgracia, en ese momento, estaba en un Erasmus de cuatro meses en Reino Unido siguiendo mis estudios en Negocios e IT. Estaba tan emocionada por que me hubieran pedido que me uniera a ellas en Costa Rica y México. Era realmente tentador, sin embargo ya había planeado y programado volver a casa por Navidad para ver a mi familia – así que no funcionó en ese momento ya que quería cumplir con mis estudios y obligaciones.
Una semana más tarde, su manager llamó de nuevo para ver si podía unirme a ellas en otra fecha, ya que realmente querían que me sumase a ellas en el tour. Esta fecha funcionó perfectamente para mí, y suponía ir a la India durante unas 14 horas para un evento allí. ¡Sí, 14 horas! Una vez allí, estuve continuamente fotografiándolas entre bastidores y empecé a conocerlas. ¡Desde entonces el resto es historia! Tengo una relación maravillosa con ellas, especialmente después de viajar con Mim y Liv durante tres años. Aprendí mucho trabajando con ellas y las considero como una extensión de mi familia en el trabajo.
WS – The first thing that catches our attention in your career is that you work with Nervo. Getting to work with Mim and Liv Nervo should not be easy. How did you get to them? What is your relationship with them?
E – Yes, I've worked with NERVO for the past 3 years! They scouted me from an event back in my home country, it was a Pacha on Tour party to be precise! I was at a club shooting for the local promoter, and tried my best to capture the coolest most unique shots of this event – as explained previously my background in the performing arts has helped my perspective of how I look at artists in performance. I tried to capture them away from the standard photography that gets usually captured in club shot. I remember very clearly, the girls had so much impeccable energy, they are extremely photogenic – so as subjects this helped the images emerge to life. I did my utmost to capture the right moments and it was worth it!
6 months later, I received a surprise phone call from their manager. Nervo loved the images I had captured of them and invited me to go on tour with them. Unfortunately, at the time, I was on a 4 months Erasmus exchange in the UK pursing my studies in Business and IT. I was so excited they had asked me to join them to Costa Rica and Mexico. It was really tempting, however I had already all planned and scheduled to go back home for Christmas to see my family – so it didn't work out at that point as I wanted to fulfill my studies and obligations.
A week later their manager called again to see if I can join them on another date as they really wished me to join them on tour. This date worked perfectly for me – and it required going to India for around 14 hours for an event there. Yes, 14 hours! Once I was there, I constantly snapped them behind the scenes and got to know them. From then onwards the rest is history! I have a wonderful relationship with them, especially after travelling with Mim and Liv for 3 years! I learnt a lot working with them and I consider them to be an extension of my working family.
---
WS – Sabemos que viajas con Nervo frecuentemente. ¿Cuál es tu labor en estos viajes? ¿Cuál es el proceso que sigues antes, durante y después de un set con las gemelas?
E – Vaya, sí, he hecho innumerables shows con las chicas. Cuando viajo con ellas, soy su tour manager, así que ejecuto todos los trabajos de gestión de la gira – como llegar puntualmente a los sets, coger los vuelos, ocuparme de los problemas, pruebas de sonido, visuales, diseños de iluminación, conductores, etc.
También soy su creadora de contenido (fotógrafa), así que mi papel es capturar realmente la vida entre bastidores de un artista. A través de la lente trato de llevar a sus fans su fuerte carácter y su alegre personalidad. Creo un montón de contenido para que los propios artistas lo usen en las redes sociales, tanto durante el día, como durante los viajes, los días libres y, por supuesto, en cada espectáculo. Mirando hacia atrás, creo que iba de acá para allá para capturar todos los ángulos y conseguir algunas tomas momentáneas que captaran la esencia de su energía en el escenario, los colores, los fuegos artificiales y los efectos especiales.
Antes de un show, siempre voy a su habitación de hotel para asegurarme de que tenemos los auriculares y los USB, ¡lo más importante! Luego me adelanto para asegurarme de que todos los conductores están allí puntualmente evitando el tráfico para dirigirse al lugar de destino. Después del espectáculo, la energía sigue siendo alta, así que dependiendo de cómo se sientan las chicas, nos quedamos por allí o volvemos al hotel para hacer las maletas, refrescarnos y conducir al aeropuerto para otro concierto que la mayoría de las veces, ¡es en la misma noche! Siempre es una nueva aventura en cada show.
WS – We know that you travel with Nervo frequently. What is your job on these trips? What is the process you follow before, during and after a set with the twins?
E – Wow yes, I've done countless shows with the girls. When travelling with them, I am their tour manager, so I execute all tour management jobs – such as arriving punctually to sets, catching flights, dealing with issues, sound checks, visuals, lighting designs, drivers etc!
I am also their content creator (photographer), so my role is to really capture the behind the scenes life of an artist. Through the lens I try to bring forward to their fans their strong characters and bubbling personalities. I Create a lot of content for the artists themselves to use for socials – both during the day, during travels, days off and of course every show. Looking back, I think I was running around crazily to capture all angles and get some momentary shots capturing the essence of their energy on stage, colours, pyros and special effects!
Before a show, I always head to their hotel room to make sure we have the headphone and USBs – the most important! Then make headway to be sure all drivers are there punctually avoiding traffic to head towards the said venue. After the show, energy is still high so depending on how the girls felt we would either hang around the set, or else return to the hotel to pack up, refresh ourselves and drive to the airport for another gig – sometimes more often than not, on the same night! It's always a new adventure for each show.
---
WS – Además de su tour manager también eres su fotógrafa. ¿Cómo combinas el management y la fotografía en sus sesiones?
E – Es un trabajo difícil, pero de alguna manera lo logré y ahora es algo natural para mí. Además de las tareas de tour manager, siempre estoy pensando y planificando formas creativas de fotografiar a las chicas. Este es mi lado creativo, inventando una narración en mi cabeza relativa a cada evento, quizás conectando con la cultura, el país, la gente para hacerlo especial y único. Por supuesto, esto no se basa solo en hacer la foto, paso muchas horas editando, incluyendo vídeos, etc. Debo haber perdido muchas horas de sueño y debido a todos los rápidos viajes y cambios de horarios, puede ser bastante complicado. Mi reloj corporal tarda un tiempo en ajustarse cuando estoy de vuelta en casa. Normalmente me pongo al día con mi sueño en casa, cuando los días y las noches se fusionan.
Durante las actuaciones siempre comienzo el set yo misma, luego cuando siento que las cosas se han asentado en los primeros 10 minutos, lo dejo estar y cambio de roles y comienzo a filmar y correr por el lugar, a veces incluso paro en la parte en la que se encuentras los técnicos para pedirles que arreglen algunos visuales o el diseño de luz general del show. Tengo que ser asertiva, atenta y tener todo el ingenio a bordo para asegurarme de que todo va bien. Están los vídeos en directo para las redes sociales que a menudo hago para todas las historias de Instagram, con el fin de mostrar a todos los fans lo vivo y animado que sería el evento. Hay mucho que hacer, pero de alguna manera he aprendido a manejarlo.
WS – Besides their tour manager, you are also their photographer. How do you combine both management and photography in their performances?
E – It's a tough demand, but somehow I managed it and now its second nature to me. Besides all the tour manager duties, I'm always thinking and planning of creative ways I wish to capture the girls. This is my creative side, concocting a narrative in my head relative to each event perhaps connecting to the culture, country, people to make it special and unique. Of course it does not stop just at the capture, I spend many hours editing including videos, etc. I must have missed many hours of sleep and because of all the quick travelling and changing of time zones, it can be pretty confusing. My body clock takes a while to adjust when I am back home. Usually I catch up with my sleep at home as days and night being to merge.
During performances I always start the set myself, then when I feel like things have settled in the first 10 minutes, I trust it and change roles and begin shooting and running around the venue, sometimes even stopping at the front of house to ask them to arrange some visuals or overall light design of the show. I have to be assertive, attentive and all wits on board to make sure all goes well. There are the live videos for socials that I often take for all the Instagram stories, in order to show all the fans how alive and buzzing the event would be. It's a lot to juggle but somehow I have learnt to manage.
---
WS – ¿Cuál sería tu consejo para alguien cuyo sueño fuese trabajar en lo mismo que tú en el ámbito de la fotografía?
E – Persigue tus sueños, sigue aprendiendo, presta atención a lo que está de moda, mantente al día. Sé humilde y en mi opinión, estás tratando con la humanidad en todas sus formas, los artistas son personas, tienen altibajos, son fuertes, son vulnerables. Siempre me involucré en todas partes, todos los eventos te enseñan algo. No tengas miedo de ser individual y siempre empuja tus límites creativos. Sé honesto en lo que quieres capturar y transmitir. Desarrolla una relación con tu sujeto. Ponte muy, muy en forma. Requiere resistencia, correr, trepar y subirte encima de cosas y a veces un acto de equilibrio o improvisación espontánea.
Es una industria muy difícil no sólo para entrar, sino también para estar en ella. Puede ser muy exigente y agotador, pero si realmente insistes y trabajas duro, nunca digas nunca. Estoy orgullosa de mis raíces como fotógrafa maltesa, el hecho de venir de una isla muy pequeña me dio la sed de saber más sobre el mundo grande, y espero haber inspirado a otros en este sentido.
WS – What would be your advice for someone whose dream is to work in the same field as you?
E – Follow your dreams, keep learning, pay attention to what is trending, stay relevant. Be humble and in my opinion I am dealing with humanity in all its form, artists are people, they have ups and downs, they are strong, they are vunerable. I always involved myself everywhere, all events teach you something. Don't be afraid to be individual and always push your creative boundaries. Be honest in what you want to capture and convey. Develop a relationship with your subject. Get very very fit! It requires stamina, running, climbing on things, and sometimes a balancing act or spontaneous improvisation.
It is a very tough industry not only to break into, but also to be in. It can be very demanding and exhausting, but if you really push and work hard never say never. I am proud of my roots as a female Maltese photographer, coming from a very small island gave me a thirst to know more about the bigger world, and I hope I have inspired others in this regard.
---
WS – Siguiendo el tema de la fotografía, ¿podrías comentarnos el equipo que llevas a los festivales (cámara, objetivos…)?
E – Tengo mi bolsa de cámaras con la que viajo por todo el mundo. Utilizo una cámara Nikon y llevo unos 3 objetivos (un gran angular, un zoom, un objetivo principal, así como un objetivo redondo estándar – 70-200mm, 24-70mm, 50mm y 10-20mm). También tengo un flash y un monópodo para tomar fotos del público desde arriba.
WS – Following with the topic of photography, could you tell us what equipment you take to the festivals (camera, lens…)?
E – I have my all round camera bag which I travel with everywhere around the world. I use a Nikon Camera, and carry about 3 lenses (A wide angle, a zoom, a prime lens as well as a standard all rounded lens – 70-200mm, 24-70mm, 50mm & 10-20mm). I also have a flash and a monopod to grab those high crowd shots!
---
WS – Además de los tours con Nervo, has trabajado con otros artistas destacados como la leyenda Jamie Jones o Sigala. ¿Encuentras alguna diferencia en tu trabajo dependiendo del artista o del evento (sala, festival…)?
E – Sí, por supuesto, son personas diferentes, así que toda la experiencia es diferente. También hago giras con Jamie Jones y Sigala. Los tres artistas con los que voy de gira son todos diferentes por sus sonidos particulares y el tipo de eventos como los festivales de housy-techno, un festival EDM o un festival comercial. Cada plataforma tiene su propio estilo y atmósfera. Algunas son también mucho más grandes que otras. A veces te encuentras con el público más loca de la historia o el total opuesto con una tranquila y fría multitud. También es el tipo de gente y el entorno lo que dicta cómo será el ambiente y la actuación. Todo se reduce a la misma meta al final del día y esta es unir a todos a través de la música y pasar un buen rato. La música es la mejor medicina.
Los artistas también tienen caracteres muy diferentes y esto es interesante para mí. El hecho de tratar de explorar y capturar quiénes son realmente y mostrar su vida digital de la manera más creativa posible, asegurándome de estar siempre alerta en cualquier momento con mi cámara en mano, es una gran responsabilidad y esto da un valor añadido a lo que hago y a quiénes son.
WS – Besides the tours with Nervo, you have also worked with other outstanding artists such as the legendary Jamie Jones or Sigala. Do you find any difference in your work depending on the artist or the event (clubs, festival…)?
E – Yes of course, they are different people so the whole experience is different. I also tour with Jamie Jones and Sigala. All three artists that I tour with are all contrasting due to their particular sounds and the type of events such as housy-techno festival, an EDM festival or a commercial festival. Each platform requires their own style and vibe. Some are also much larger than others. Sometimes we find the craziest crowd ever or the total opposite a calm chilled crowd. It's also the type of people and surrounding that dictates how the evening vibe and performance will go. It all boils down to the same goal at the end of the day and that is in uniting everyone through music and to have a good time! Music is the best medicine.
The artists also have very different characters and this is interesting for me, to try to explore and capture who they really are and bring their life digital in the most creative way possible, making sure I'm always alert for any given moment, not to be missed with my camera in hand, it is a big responsibility and this gives added value to what I do and to whom they are.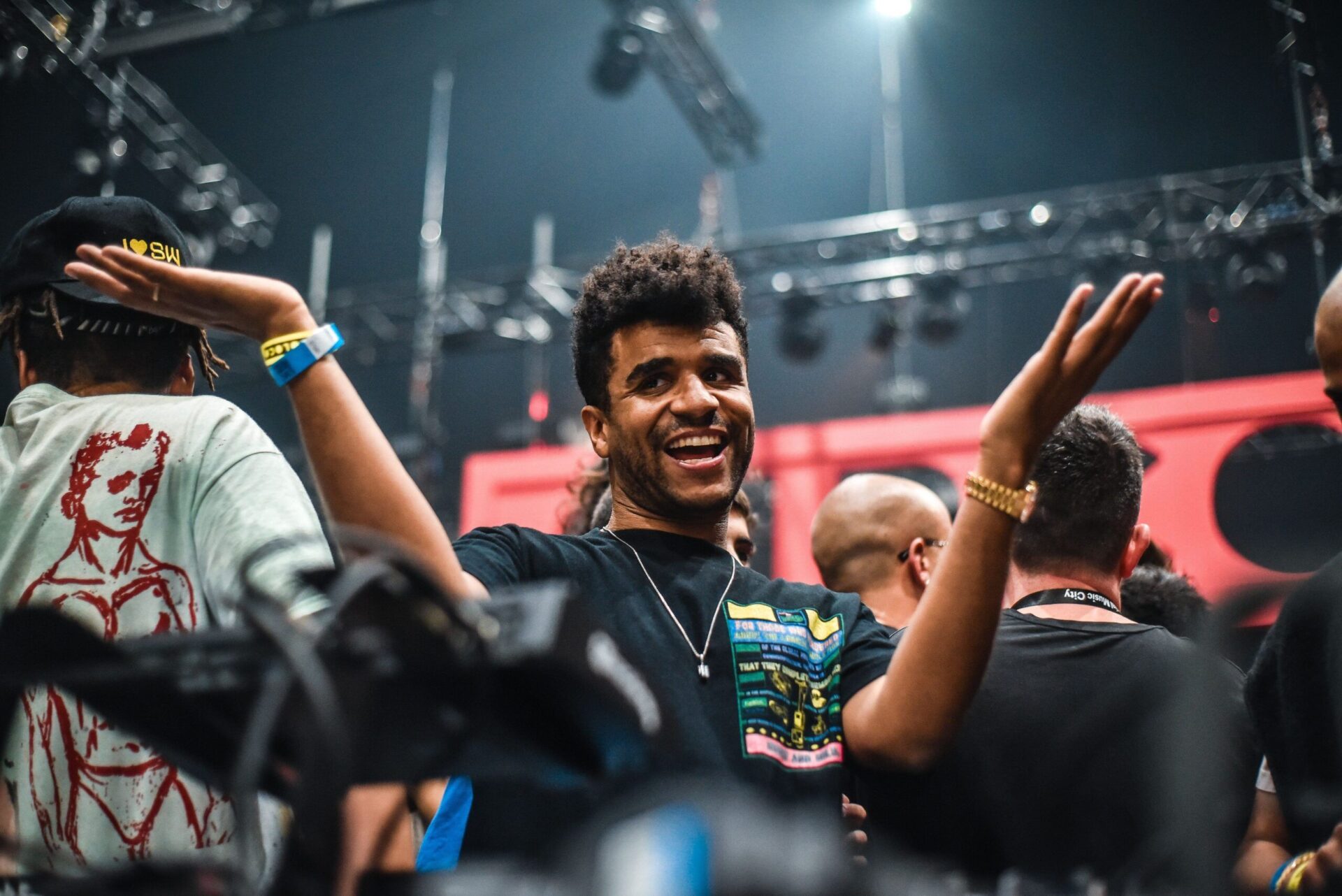 ---
WS – ¿Con qué artistas te gustaría trabajar en un futuro?
E – Estoy abierta a trabajar con cualquier artista que confíe en mí. Pero para mí ahora, después de todas estas experiencias viajando y trabajando, es muy importante estar rodeado de personas que trabajen de manera respetuosa, creando una atmósfera familiar ya que estamos juntos todo el día, especialmente cuando viajamos en autobús. Establecer una buena relación con el artista para sacar lo mejor de ellos mientras se viaja. En los tours se utilizan todas las formas de transporte, desde aviones, largos viajes en furgoneta, hasta giras en autobús. Documentar su vida viajando y todas las actividades que vienen con ella tiene que ser nutrido a través de la relación que construyes y saber dónde están los límites, si es que existen. A veces, es la música lo que afecta al trabajo, esto inspira un cambio de estilo a la hora de tomar las fotos. Así que pensando en vuestra pregunta con más profundidad, creo que probablemente diría que ¡me encantaría trabajar con un evento pop alguna vez!
WS – What artists would you like to work with in the future?
E – I am open to work with any artist that will trust me. But for me now after all these experiences travelling and working, its really important to be around persons who work in a respectful manner, creating a family atmosphere as you are together round the clock, especially when touring on a bus. Establishing a good relationship with the artist in order to bring out the best in them whilst on the road. Touring uses all forms of transport from jet, planes, long van rides, to bus tours. Documenting their life travelling and all the activities that come with it has to be nourished through the relationship you build and knowing where boundaries are, if they exist at all. Sometimes, it's the element of music that effects the work, this inspires change in the style of how I would take the photos. So thinking about your question in more depth I think I would probably say that I would love to work with a pop act sometime!
---
WS – Imaginamos qué has visitado muchas veces nuestro país. ¿Cómo son las facilidades de los eventos españoles a la hora de tratar a las artistas, y a la hora de facilitar tus trabajos como tour manager y fotógrafa? ¿Existe alguna anécdota curiosa que te gustaría compartir?
E – Siempre me encanta cuando miro mi calendario y veo que nos dirigimos a España para algún evento. La hospitalidad es asombrosa, sin mencionar el increíble ambiente que tienen los españoles, además de ser increíblemente amigables. Soy mediterránea, así que puedo verme reflejada en ello. Cuando tengo un par de horas libres después de aterrizar en el país, y antes del evento – siempre me aventuro a dar una vuelta por la ciudad para orientarme y ver dónde estoy, lo que la ciudad ofrece, y por supuesto lo más importante, ¡probar algo de comida local! He estado en un par de ciudades en España como Barcelona, Sevilla, Almería, Málaga, Madrid, Ibiza, Valencia, Burriana, Mallorca… y Alicante. ¡Me encantan todas!
WS – We can imagine you have visited our country many times. How is the transport, accommodation and facilities of the Spanish events when it comes to treating artists, and when it comes to easing your work as a tour manager and photographer? Is there a funny story you would like to share with us?
E – I always love it when I look at my calendar and see that we would be heading to Spain for some event. The hospitality is amazing, not to mention the amazing atmosphere the Spanish people have, as well as being incredibly friendly. I am Mediterranean so I can really relate well to this. When I get a couple of hours off after landing in the country, and before the event – I always venture round the city to get my bearings and see where I am, what the city has to offer, and of course most importantly try some local food! I've been to quite a couple of cities in Spain such as Barcelona, Seville, Almeria, Malaga, Madrid, Ibiza, Valencia, Burriana, Mallorca… and Alicante. Love them all!
---
WS – ¿Consideras este trabajo como una profesión a largo plazo o te ves desempeñando tu actividad laboral en otro sector dentro de unos años?
E – Me encanta el sector creativo y también me encanta la industria de la música. Tengo la suerte de vivir mi pasión todos los días, donde puedo viajar alrededor del mundo con mi fotografía, pero también he trabajado muy duro para ello. No sé qué me deparará el futuro, pero al responder ahora creo que me gustaría seguir trabajando dentro de la industria musical, ya sea de gira o entre bastidores… es un poco difícil de explicar, pero todavía soy joven y me siento con energía y emocionada por ello, me nutre y nunca doy nada por hecho. Desde que estoy en la industria de la música desde hace ya 5 años, he llegado a amarla más, haciendo algunos amigos y contactos increíbles a lo largo del camino, viendo el mundo, la gente y sus culturas. Pero sobre todo, entendiendo lo importante que es la música para el mundo. Con todos sus aspectos: cómo se crea, viendo los éxitos que se escriben, se desarrollan y se lanzan. Es todo un proceso. Los equipos de los artistas se someten a un montón de trabajo y los fans sólo reciben el resultado del éxito cuyo proceso he vivido, es genial.
WS – Do you consider this work to be a long-term job or do you see yourself working in another sector in a few years?
E – I love the creative sector, and I also love the music industry. I'm lucky to live my passion everyday where I get to travel around the world with my photography, but I've also worked very hard for it. I do not know what the future has in store for me however answering now I think I would like to continue working within the music industry – be it on tour or behind the scenes… it's a bit hard to explain but presently I am still young and I still feel energized and excited for it, it nourishes me and I never take it for granted. Since being in the music industry for the past 5 years, I have grown to love it more, making some amazing friends and contacts along the way, seeing the world, people and its cultures. But most of all understanding how important music is to the world. With all its aspects of how its created, watching hits being written, developed, and released, it's a whole process. The preparation teams undergo a lot of work and fans only receive the result of the hit I get to see the process, it's great.
---
WS – Y al contrario, en caso de permanecer toda tu vida en la escena musical, y después de ser tour manager y fotógrafa, ¿Cuál sería el siguiente paso?
E – No he pensado en eso todavía. Aún es demasiado pronto para decirlo. Pero reflexionando, quizás en este momento creo que puedo decir que la vida tiene una forma que muestra muchos caminos y elecciones, solo espero hacer los correctos con todos los objetivos y desafíos y espero crear valor añadido dejando humildemente algún legado y marca en el mundo.
WS – And on the contrary, in case you stay your whole life in the music industry and after being a tour manager and photographer, what would be the next step you would like to take?
E – I haven't thought that far ahead yet. Still too early to say. But in reflection perhaps at this point I think I can say life has a way of showing many pathways and choices, I just hope I make the right ones with all goals and challenges and hopefully create added value by humbly leaving some legacy and mark on the world.