Sub Zero Project nació hace unos años con la unión de los jóvenes holandeses Thomas y Nigel, quienes han ido creciendo en la escena con un sonido único que les ha llevado a ostentar el trono como productores de la mejor canción de hardstyle del 2019: 'Darkest Hour'. Hoy, se abren a nosotros para ofrecernos la oportunidad de conocer mejor las claves de su éxito, así como su recién estrenado live show 'Rave Into Space', el cual tuvimos la suerte de presenciar en directo el pasado sábado.
Entrevista a Sub Zero Project / Interview with Sub Zero Project:
Wololo Sound – Hola Thomas y Nigel, es todo un honor para nosotros poder contar con vuestra participación por primera vez en Wololo Sound. ¡Tenemos muchas ganas de saber más de vosotros!
Sub Zero Project – ¡Gracias por invitarnos Wololo Sound! Siempre es un placer hacer tiempo para nuestros fans españoles.
Wololo Sound – Hi Thomas and Nigel, we're very honoured to have your participation for the first time in Wololo Sound. We're looking forward to knowing more about you guys!
Sub Zero Project – Thank you for having us Wololo Sound! Always a pleasure to make time for our Spanish fans!
---
WS – Recientemente os coronasteis con la primera posición en el Top 100 de Q-Dance y otros 9 temas estuvieron en el Top 40. ¿Qué se siente al estar en lo más alto de la música hard?
SZP – El hecho de que recibamos tanto reconocimiento por nuestra música es increíble. Cuando comenzamos a producir, nunca pensamos que nuestra música llegaría a tanta gente alrededor del mundo. Crear el track número 1 de hardstyle en 2019, y otros nueve tracks en el Top 100 de hardstyle es algo de lo que estamos súper agradecidos.
WS – Recently, you achieved the first position in the Hardstyle Top 100 by Q-Dance and nine other tracks made it into the top 40. What does it feel to be at the top of hard music?
SZP – The fact that we get so much recognition about our music is incredible! Back when we started producing, we would've never thought our music would reach so many people worldwide. Creating the number 1 Hardstyle track of 2019, and nine other tracks that have been voted into the Hardstyle Top 100, is something we are super grateful for.
---
Relacionado: Top 100 de canciones de hardstyle 2019 según Q-Dance
WS – Además de vuestro éxito en este ranking, conseguisteis un debut en el de DJ Mag, que ha sido criticado por muchos. ¿Creéis que esto puede dar un empujón a vuestra carrera musical?
SZP – No pensamos que estar en el Top 100 de DJ Mag sea una de las cosas más importantes como dj/productor, pero por supuesto, ayuda. Consigues más visibilidad y es señal de que a tus fans les encanta tu música. Para nosotros, conseguir el puesto #95 en el DJ Mag Top 100 es un bonito escalón que hemos subido y nos hace estar incluso más motivados para 2020
WS – Apart from your success on that ranking, you made a debut entry on the DJ Mag one which has been polemic for some years now. Do you believe this could give a push to your musical career?
SZP – We don't think reaching the DJ Mag Top 100 is one of the most important things as a dj/producer, but sure, it helps. You'll gain more exposure and it's a sign that your fans love your music. For us, reaching #95 in the DJ Mag Top 100 is a beautiful milestone and it makes us even more motivated for 2020.
---
WS – El año pasado fue sin duda un año brillante para vosotros, pues lanzasteis vuestro primer álbum 'Contagion' que ha arrasado en las mejores listas de hardstyle. ¿Nos esperan más proyectos como este en 2020?
SZP – No haremos un álbum en 2020, pero acabamos de lanzar nuestro nuevo live show, llamado 'Rave Into Space'. Como hicimos con 'The Contagion', habrá varias canciones dentro de esa temática específica. ¡Nuestros fans pueden esperar un montón de lanzamientos este año!
WS – Last year was unquestionably brilliant for you as you released your first album, 'Contagion', and many of its songs have been included in some of the best hardstyle playlists. Will we have more projects like this in 2020?
SZP – We're not doing an album in 2020, but we just launched our new live show, called 'Rave Into Space'. Like we did with The Contagion, we're going to make several tracks within that specific theme. Fans can expect a lot of releases this year!
---
WS – Hace poco anunciasteis un nuevo proyecto que tenéis entre manos, que comenzó a finales de enero. ¿En qué consiste exactamente 'Rave Into Space' y qué resultados esperáis de ello?
SZP – 'Rave Into Space' es nuestro nuevo concepto de show en directo. En 2016 comenzamos con 'The Project', en 2017 tuvimos 'The XPRMNT', el año pasado tuvimos 'The Contagion' y ahora es 'Rave Into Space'. Llevaremos a nuestro público a través de un viaje musical en el espacio. El nuevo show contiene nuevas visuales y un montón de música nueva. Lo estrenamos globalmente por primera vez en I Am Hardstyle en Alemania, ¡y fue increíble!. Estamos deseando que llegue el segundo show en Reverze, Bélgica.
WS – Not long ago you announced a new project you've been working on and which started at the end of January. What is exactly 'Rave Into Space' and what are you expecting from it?
SZP – 'Rave Into Space' is our new live show concept. In 2016 we started with 'The Project', in 2017 we had 'The XPRMNT', last year we had 'The Contagion' and now it's 'Rave Into Space'. We're taking the visitors on a musical journey through space. This brand new show contains new visuals and a lot of new music. We had the global premiere at I Am Hardstyle in Germany which was insane! We're already looking forward to the second show at Reverze in Belgium.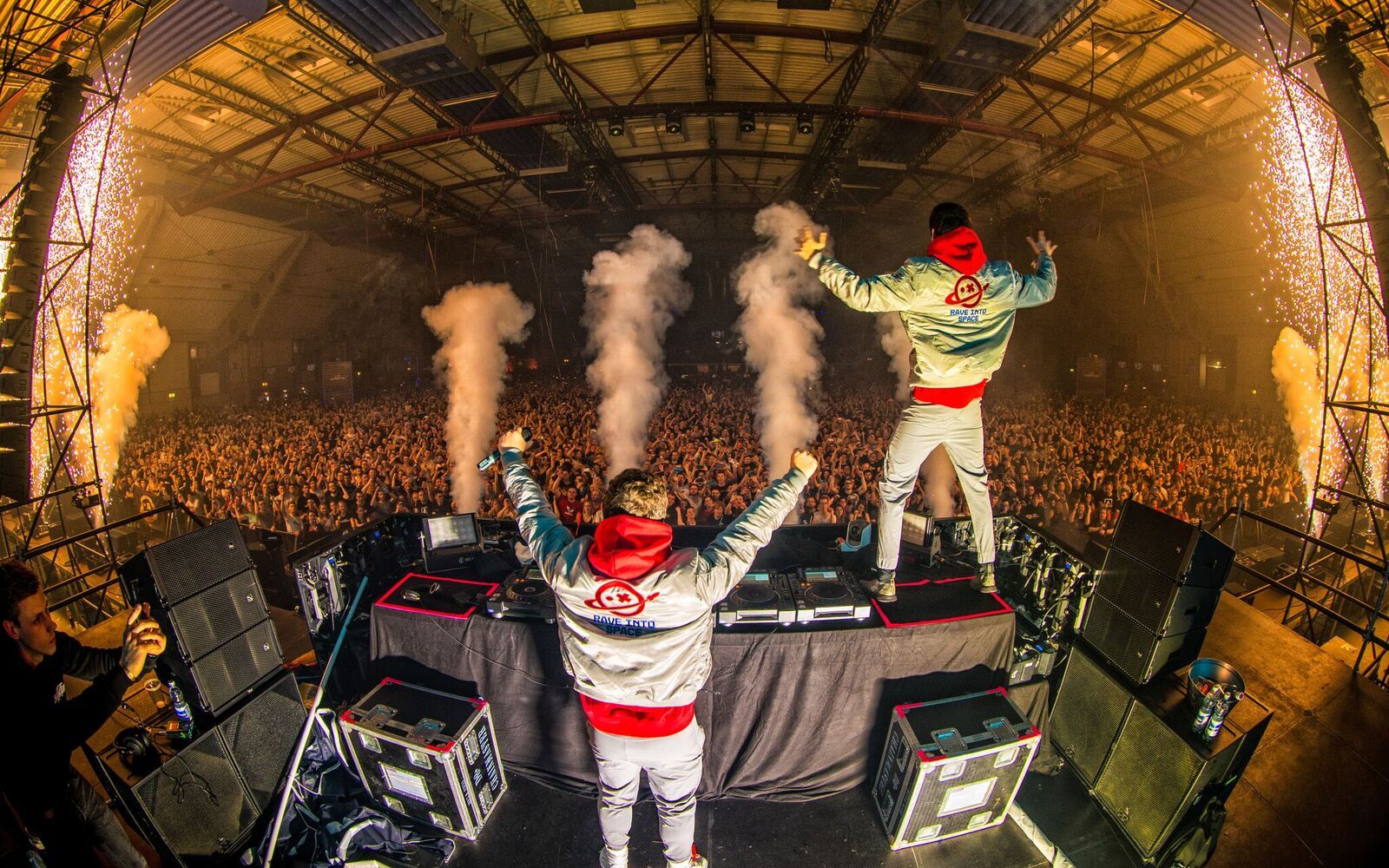 ---
WS – Habéis conseguido consolidaros en la escena hardstyle con un estilo propio que es reconocible sobre el resto, ¿consideráis que esto es algo esencial para triunfar en la escena hard o en la escena electrónica en general? ¿o a veces no es suficiente?
SZP – Realmente creemos que si creas tu propio sonido finalmente tendrás éxito. Cuando comienzas a producir aprendes un montón intentando hacer nuevas versiones de algunos tracks de tus productores favoritos. Pero en algún momento necesitas crear tu propio sonido distintivo – un sonido específico en el que los oyentes puedan reconocerte e identificarte. Si intentas imitar a otros productores, no destacarás sobre la multitud.
WS – You've grown in the hardstyle scene with a unique style which stands out from the rest. Do you believe this is essential in order to succeed in the hard scene or in electronic music in general, or sometimes it is not enough?
SZP – We do believe that by creating your own sound you eventually will succeed. When you start producing you'll learn a lot trying to remake certain tracks from your favorite producer(s). But at some point you need to create your own signature sound – a specific sound that in which listeners can recognize and identify you. If you try to imitate certain producers, you won't stand out in the crowd.
---
WS – Ya sois conocidos en muchos line-up de España, donde la escena hard cada vez parece tener más importancia. ¿Consideráis que es un país donde el hard puede triunfar tanto como en otros países como Holanda o Bélgica? ¿O qué subgénero pensáis que puede arrasar en 2020 en nuestro país?
SZP – Desde luego que sí. La escena hardstyle en España ha crecido muchísimo en los últimos años. El año pasado cerramos Medusa Festival y fue impresionante. Es un gran festival y el público fue increíble. Cada año la escena crece incluso más en España así que estamos seguros de que esto no es el final.
WS – You've already been part of many line-ups in Spain, where the hard scene seems to be getting more importance. Do you consider it is a country where hard can be as popular as in others such as The Netherlands or Belgium?
SZP – We certainly think so. The Hardstyle scene in Spain has grown hugely in the last couple of years. Last year we closed down Medusa Festival and that was insane! It's a huge festival and the crowd was incredible. Every year the scene grows even bigger in Spain so we're sure this isn't the end.
---
Por último pero no por ello menos importante, unas preguntas cortas:
– Subgénero favorito a parte del hardstyle: A los dos nos gustan casi todos los géneros, pero si tenemos que elegir uno, sería el dubstep.
– Artistas favoritos que no sean de la escena de la música electrónica: Nos gusta mucho la música de Post Malone.
– Un productor con el que soñaríais pasar un día en el estudio: Algún día, nos gustaría producir un tema con NGHTMR. Tiene producciones muy buenas y tenemos mucha curiosidad por saber cómo sonaría una colaboración entre nosotros.
– Comida española favorita: ¡La paella, por supuesto!
– Tema favorito que hayáis producido: Esta pregunta nos la hacen mucho, pero no podemos responderla. Para nosotros, personalmente, cada tema tiene algo especial y pasamos mucho tiempo produciendo cada track. No podemos elegir nuestro favorito – estamos contentos con todo lo que hemos hecho hasta ahora.

Last but not least, some short questions:

–Favourite subgenre apart from hardstyle: We both like almost every genre, but if we have to choose, then we'll choose dubstep.
–Favourite artists who are not in the electronic music scene: We really dig the music of Post Malone.
–One producer you'd dream to share a studio day with: We would like to produce a track with NGHTMRE one day. He's got insane productions and we're very curious about how a collaboration between us would sound like.
–Favourite Spanish food: Paella, for sure!
–Favourite track you've ever produced: We get this question a lot, but we just can't answer it. For us personally, every track has something special and on every track we spend a lot of time producing it. We just can't pick our favorite – we're happy with everything that we've made so far.